Hey everyone! Im very excited to post this and to get to work on this new project. I know that branding is very important to the 501st in our efforts to make ourselves known and in gaining new recruits. I saw that in action yesterday at the Spanish fork library event where we had a very nice table set up with Kirks CRL book, a TV playing the rose parade documentary and a slew of books and posters brought by Mark, and it made a huge impression on those that were there. Thus my inspiration for this new project while I get the rest of my Tie Pilot armor in.
So this is a 3D rendering of the project. Built to resemble a portion of a control panel you can see on the death star in ANH, this prop will be able to project great sound and HD video content for anyone passing by our booth or information table. The following image displayed is the same image as above but with a break down of part functionality and how this is all going to work.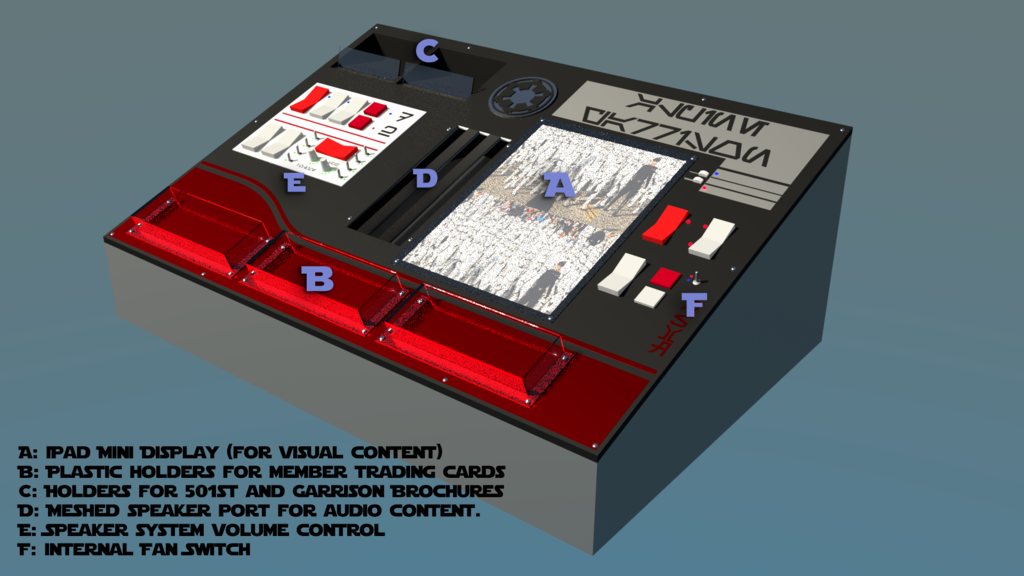 My goal is to have this project "Fully armed and operational" by no later than August. If you guys have any suggestions please post them, I am all ears. I will continue this thread with updates and pictures as I work on it.